Since Chimney Sweeping is an unregulated industry there is no requirement for you to join any Chimney Sweeping Association, however some contracts with housing associations etc may require you to be a member. There are a number of Chimney Sweeping Associations for you to choose from. The National Association of Chimney Sweeps (NACS) and The Guild of Master Chimney Sweeps (GOMCS) are currently the largest associations within the industry but you should select the association you feel is best suited to you.
This list shows you (in alphabetical order) the most popular Chimney Sweeping Associations currently operatiing in the UK:
APICS – Association of Professional Independent Chimney Sweeps.
www.apics.org.uk
0345 604 4327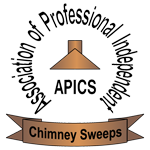 APICS formed to keep members independent and to set standards chimney sweeps must reach to become a member.
Thus improving the knowledge and safety of chimney sweeps and customers across the UK. Thereby giving customers a better service and a name they can recognise and trust.
APICS was formed in April 2002 and the logo was registered in June 2002.
A friendly organisation, recognising that chimney sweeps are independent and should be allowed to get on with their daily work without interference.
Dedicated to raising general awareness of the dangers of Carbon Monoxide to all.
---
The Chimney Sweep Academy.
www.chimneysweepacademy.co.uk
01223 851 472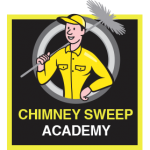 The Chimney Sweep Academy is formed as a professional Trade Association, we are here to oversee that the highest standards of chimney sweeping are carried out.
All our members work to the Chimney Sweep Academy Code of Practice and the Academy Code of Conduct.
All our members issue certificates of completion, any necessary advice will also be recorded on this document.
No matter if your an experienced Chimney Sweep or an individual looking to start the trade, we are here to offer all the ongoing help and support you need.
The Chimney Sweep Academy is here for the benefit of its members, with honest help and guidance from all of us on the team.
---
GOMCS – Guild of Master Chimney Sweeps.
www.guildofmasterchimneysweeps.co.uk
01375 414003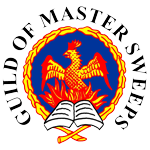 The Guild of Master Chimney Sweeps formed over 20 years ago and is a 'not for profit' trade association for professional chimney sweeps.
From the start the Guild set the highest standards for training and assessment of its members.
This continues today, with the most comprehensive training and mentoring programme for new sweeps anywhere in the UK and Ireland.
GOMCS also offer a broad range of additional professional training for existing members, plus periodic refresher courses, which are mandatory, to keep members up to date and consumers safer.
The Guild of Master Chimney Sweeps is also the only association that represents the UK sweeping industry at an international level.
---
ICS – Institute of Chimney Sweeps.
www.instituteofchimneysweeps.com
01622 670333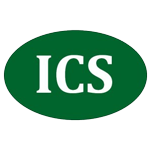 The Institute of Chimney Sweeps is a trade association for Chimney Sweeps and Installers.
It was established in order to provide the industry with a benchmark for quality and safety.
It is now one of the U.K.'s largest chimney sweeping organisations.
All of our members receive ongoing training to the highest standard in all aspects of flues and appliances.
Many offer repair work, regular sweeping as well as installations.
---
NACS – National Association of Chimney Sweeps.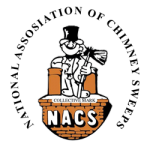 The National Association of Chimney Sweeps formed in 1982 as a professional trade association with a current membership of over 600 members. NACS promotes high standards for the sweeping, inspection and maintenance of chimneys.
NACS is the national trade association in the UK to represent Chimney Sweeps and is exclusively recommended by all major fuel organisations – Solid Fuel Association, HETAS (Heating Equipment Testing & Approval Scheme), British Gas, OFTEC (Oil Firing Technical Association), National Fireplace Association.
All new Members must undertake compulsory training and on-site assessment and are also checked, prior to enrolment, for public liability insurance and all the necessary tools and adequate equipment to ensure the public is well protected by the services of a professional sweep.
---
*All descriptions of associations are direct quotes from their own respective websites and do not represent the opinion of becomeachimneysweep.co.uk in any way.