Manual Chimney Sweeping Equipment.
Rods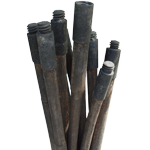 For lined appliances (4-6 inches) most sweeps will opt for a ½ inch superflex rod.
This rod is a British Standard Whitworth ½ inch Ferrule, and the rod is made of Nylon.
Conventional sweeping rods come in different sizes;
3/4, 7/8th, 1" and 1&1/8th.
3/4 inch are for flues between 6" and 10"
7/8th inch rods are for flues between 10" and 18"
1" rods are for flues over 18 inch
1&1/8th are for inglenooks.
---
Heads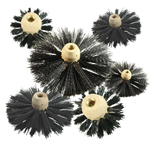 Head selection is crucial for traditional sweeping!
Heads come in 4 to 5 differing varieties of stiffness
Soft, Medium, Hard/Stiff, Extra stiff and Super hard/Scraper
Heads come in virtually any size from 4" right through to 36"
Heads come in round, square and rectangular.
Heads come in wooden block and metal spiral.
When selecting the brush size you have to take 3 different things into account;
The flue size and shape
The type of flue
The bi-product you require to clean from the flue
You must use a brush equal to the largest part of the flue.
i.e. where the stove has an outlet of 5" and this is run into a 8" flue, you must use an 8" brush.
If you are going into a square or rectangular flue, you must have a brush that will go from corner to corner. So for a square 8"x8" flue, you would require a 12" brush, and a 9"x9" would need a 13" brush. As you will find it hard to get a 13" brush you will require a 14" brush.
---
Rotary Power Sweeping Equipment.
Rods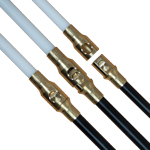 Power sweeping rods, are very similar to that of traditional sweeping. The rods come in 6 different sizes;
8 & 10mm (for sweeping flues and induction flues in Biomass) 2" though to 6" flues.
12mm rods are for lined flues 6" to 8".
15mm rods are for clay lined flue and unlined flues 8" through to 18".
18mm rods are for flues greater than 18".
Aluminium rods are to be used in conjunction with 18mm rods and will stiffen the rods.
---
Heads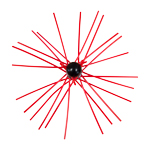 Power sweeping heads differ from traditional sweeping heads
They range from 100mm through to 900mm (3ft)
They can be stranded with chain, steel cable or co-polymer.
They also have different stranding methods for different types of problems
The difference between manual and traditional sweeping brushes is that you do not have different stiffness modes, as the stiffness is regulated by the speed of the drill.
---
*Images of Rotary Power Sweeping Equipment supplied by Rodtech UK Ltd